Skip to main section
Get an affordable education designed for you
Strayer offers five undergraduate degree programs in accounting, business, information technology and criminal justice, plus career-focused concentrations to fit your goals.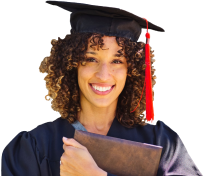 130 years of making education happen
Graduating over 150,000 students from all different backgrounds.
Take courses on us
Earn your Strayer bachelor's degree for less by taking no-cost Sophia gen ed courses and transferring them to Strayer
STRAYER UNIVERSITY
Reinvent yourself online
Class is always in session, even in times like these, so you can learn online — on your terms. When you're ready to change your future, we've got the teams, tools and technology to help make it happen.
400+
31
75
Concentrations and specializations
50,000+
Students enrolled globally
89%
The high-quality higher education you deserve
Strayer is accredited or certified by four organizations, which provides evidence that we meet standards for quality of faculty, curriculum, learner services and fiscal stability. From faculty and curriculum to services and financials, we're committed to meeting quality standards so you can earn a diploma you're proud to display.