Skip to main section
View our commitment to accessibility
Strayer University's 125-year legacy is built on the success of its graduates. The University's Alumni Association helps graduates maintain and strengthen connections formed during the educational journey.

Join Strayer's thriving alumni community by visiting alumni.strayer.edu. There, you can:

Network with over 120,000 alumni from various industries, cities, backgrounds and interests

Attend events and programs to further professional goals and interests
Access career development resources
The association's LEAP (Leadership, Engagement, Affiliation, and Pride) program serves as a road map of the many ways graduates can be involved.

LEADERSHIP AND LEGACY



BECOME A REGIONAL ALUMNI CHAPTER OFFICER. As a volunteer chapter officer, you can help bring alumni in your area together by organizing career and networking events. You can also help the next generation of Strayer graduates succeed by hosting mentoring gatherings and sharing relevant career opportunities through the Strayer Alumni network.

REFER FAMILY AND FRIENDS TO STRAYER UNIVERSITY. Give those you care about the same opportunities you had to get an education and build a better future.
 
ENGAGEMENT
ATTEND ALUMNI ACTIVITIES AT YOUR LOCAL CAMPUS. Campuses often host career fairs and guest lectures as well as opportunities for alumni to volunteer at a New Student Orientation or Honors ceremonies.

VOLUNTEER AT A STRAYER COMMENCEMENT CEREMONY. You can help students prepare for the ceremony, sell alumni merchandise, or simply cheer on graduates on their big day. You can also nominate a fellow alum for the Outstanding Alumni Award, which honors their professional and personal accomplishments and is presented on stage at the ceremony.
 
AFFILIATION: JOIN THE NETWORK AND STAY CONNECTED
CREATE A PROFILE IN THE ALUMNI DIRECTORY. Visit strayeralumni.org to get started. Then, you and your classmates can get connected and stay up-to-date on personal and professional news.

UPDATE YOUR CONTACT INFORMATION by reaching out to the Strayer Help Desk at 1-844-478-7293 so your fellow alums and current students can reach you for networking and updates.

FOLLOW STRAYER UNIVERSITY ALUMNI CONNECTIONS ON LINKEDIN

to share your career accomplishments and stories and hear about what's been going on with others. It's also a great way to network if you're pursuing new professional goals.
 
PRIDE
SHOW YOUR STRAYER PRIDE and be a brand ambassador for Strayer by donning a sweatshirt, toting a Strayer backpack or enjoying your coffee from a Strayer mug. We're proud of the Strayer name and love to see our alumni wear their gear with pride. You can purchase Strayer gear at

shop.strayer.edu.

SHARE POSITIVE REVIEWS about your Strayer experience on Google, Yelp, Consumer Reports and other review platforms.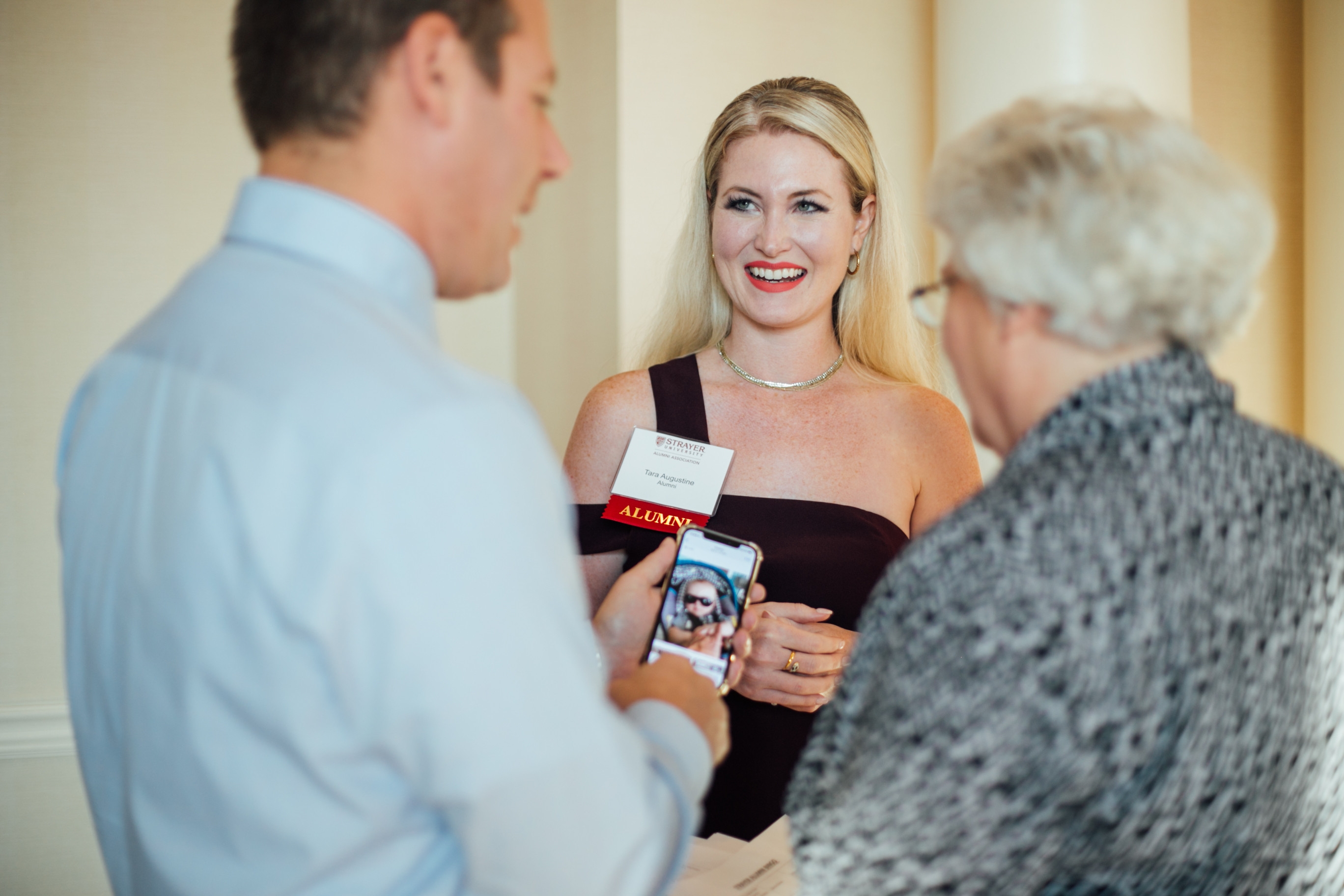 FIND A LOCAL ALUMNI CHAPTER
Alumni chapters are volunteer-driven organizations that reflect the pride of Strayer University's alumni—no matter where they live. Join an alumni chapter to connect with other alumni and your alma mater through organized socials, service events and community activities. Chapters also serve recent grads and current students by offering access to mentorships, internships, and career opportunities through the Strayer alumni network. Email strayeralumni.org to join a chapter in these areas:
Atlanta, GA
Baltimore, MD
Charlotte, NC
Hampton Roads, VA
Memphis, TN
Nashville, TN
Northern Virginia
Philadelphia, PA
PG County, MD
Raleigh, NC
Fredericksburg VA
Washington, DC