Skip to main section
Access no-cost gen ed courses with Sophia
Earn your gen eds on your time, at your pace
Save up to $14,800 on your Strayer bachelor's degree by accessing your general education courses through Sophia Learning.*  
Sophia is an affiliate of Strayer University and offers online general education courses you can start at any time. Once you complete a course through Sophia, your transcript will automatically be sent to Strayer on your behalf. Completing your gen eds through Sophia can significantly reduce the cost of earning a bachelor's degree at Strayer.
*Savings assumes transferring 10 courses taken at Strayer affiliate, Sophia Learning. Eligibility rules apply. Connect with us for details.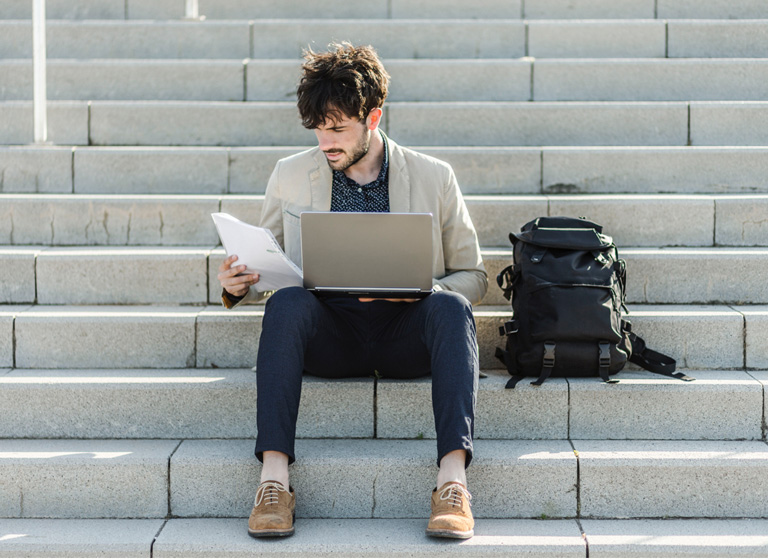 Get started
Find a Strayer program that aligns with your career goals
Apply to Strayer
Complete your general education courses through Sophia
Transfer and save
Apply now
What is Sophia?
Sophia is an innovative, self-paced way to earn no-cost gen eds on your terms. Access Sophia anytime, anywhere on your laptop, tablet or phone. The following chart provides a comparison of completing your gen eds through Sophia versus Strayer:
Explore Sophia courses
Learn more about the general education courses offered through Sophia. Take as many courses as you want, up to two courses at a time. The more gen eds you complete through Sophia, the more you can save.
Frequently asked questions
Sophia is designed with your busy life in mind. Check out these frequently asked questions to learn more about Sophia and how it works. 
How do Sophia courses work?
Sophia courses are self-paced, and you can start at any time. There are no textbooks or other course materials required. Everything you need is included in the online course. Courses are designed to be completed within 60 days. Once you finish a course, Sophia automatically transfers the credit to Strayer.


How many Sophia courses can I take at one time, and where do I register?
You can register for any or all of the 30 gen ed courses offered through Sophia and take up to two courses at a time. However, there's a limit to the amount of credit you can transfer into your associate or bachelor's degree program at Strayer. Students in Strayer's associate degree programs can transfer a maximum of 63 credit hours. Students in Strayer's bachelor's degree programs can transfer a maximum of 126 credit hours.


Will Sophia courses count toward my overall GPA?
Eligible students can transfer Sophia courses to Strayer for gen ed credit. However, there's no associated grade, and Sophia courses don't factor into a student's grade point average at Strayer.


Do Sophia courses earn Graduation Fund credits?
No. Sophia courses don't count toward Graduation Fund savings requirements.


Can I take Sophia courses and Strayer courses at the same time?
Yes. Sophia courses are self-paced and have flexible start dates, so you can take Sophia courses alongside your Strayer courses. But Sophia courses won't count toward your financial aid eligibility or your GPA.


Will Sophia courses impact my financial aid?
No. Your financial aid package doesn't take Sophia courses into consideration. To be considered for a direct loan, you must take a minimum of two undergraduate courses at Strayer in a given quarter.

Does Sophia credit transfer to Strayer automatically?
Sophia will automatically send your transcript to Strayer. It typically takes a few days for the credit to post. You'll receive an email notifying you when the credit has posted. You may also check the status in iCampus. Go to the left-hand navigation menu, click "Academic" and then "Transfer Credit Request Status" to look for Sophia transfer credit.