Skip to main section
Your Online Learning Experience
Education reimagined
The future of education is at Strayer. Helping you reach your education and career goals drives us to innovate. We constantly look for new technologies to optimize your education. And we base our online curriculum on skills employers look for today.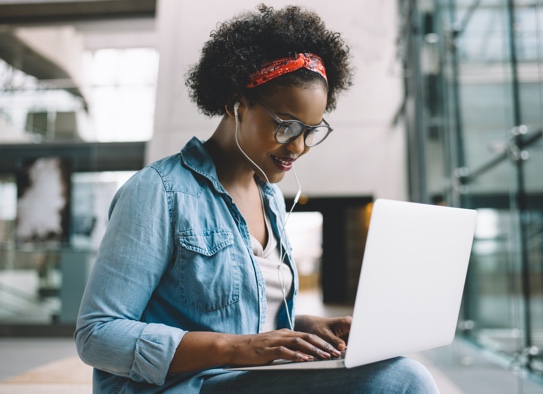 Designed for the way you live today
An online degree from Strayer can free you from the constraints of a classroom schedule. You get a practical path to acquiring real-world skills with the convenience of fitting your education into your busy life. And you get the support you need with faculty, advisors and coaches available to help guide you.
Flexibility: Attend classes from anywhere, and work at a pace that suits you.
Easy Access: Instantly access course materials, schedules, assignments, and lessons.
Stay Connected: Interact with students and instructors wherever they are.
Can a degree from Strayer University fit your unique lifestyle?
Answer three simple questions to get an idea of how your Strayer schedule could fit your life.
How many courses will you take?
What is your current work schedule?
When do you prefer to study?
Your admissions officer
An admissions officer will help you navigate enrollment and your first quarter, answering questions like:
What's the right program for me?
Do I qualify for financial aid?
Can I transfer credits from another school?
Student services coaches
After your first quarter, a student services coach will be with you until you graduate to help you:
Choose which courses to take
Connect with tutors and study groups
Navigate personal, course-related and financial aid challenges
Tutoring
Get help working through difficult coursework from academic and professional tutors. Tutoring is available in-person and online at no cost. Connect with your admissions officer to set up an in-person appointment.
Connect with faculty
Our faculty is easy to reach and responsive, so you can get help when you need it. Your professors will give you fast feedback, with specific answers to your questions to keep you moving along on your coursework.
Career Center
The University Career Center provides a wide range of services and resources designed to help you reach your career goals. Find support for crafting your resume, cover letters, portfolio and LinkedIn profile. Or get tips on networking and interviewing. To access career support resources visit the Career Center at careercenter.strayer.edu.
Virtual writing center
This online resource can help you put your thoughts into the right words.
Student community
Connect and collaborate with your fellow students. Whether you study online or in a classroom, you can participate in class discussions, mentor and learn from others, expand your professional network and form lifelong friendships.
Online library
Access a variety of resources through our online library and Learning Resources Centers at select campuses.
Virtual bookstore
The online Strayer University bookstore has all the books and other study materials you need to complete your coursework. Complete your order online. Most orders are shipped within 24 hours.
Virtual assistant
Irving, your 24/7 virtual assistant, is always ready to answer questions about schedules, deadlines and other administrative details.
Technical support
Our Student Technical Support and iCampus Technical Support teams give students access to personalized, flexible technology help when they need it.
Frequently asked questions
If I take online classes, can I get help on campus if I need it?
Yes! You're always welcome to go to your home campus or any other Strayer campus for assistance from staff, faculty and coaches. Find a Campus Near You
Do I take exams and tests online or in a classroom?
All of your exams, tests and assignments are completed online. You are welcome to use the computers on campus, where available, to finish your work or take tests.
Are online classes worth the same amount of credits as on-campus classes?
Yes, both online and on-campus classes are worth 4.5 credits and last 11 weeks. Find Your Program
How do online classes work?
You'll use our online course room, Blackboard, for submitting assignments and viewing course content. Classes are 11 weeks long, and each week your work will be due in Blackboard by Sunday at midnight. You can access Blackboard through your student portal, iCampus.
Are textbooks digital or printed?
Depending on the class, there are multiple textbook formats. Some are electronic only with the option of print on demand for an extra fee. Some classes just have a textbook, while others require additional materials.
Video learning
Retain more from your coursework through fascinating documentary-style videos produced by Emmy award-winning filmmakers that feature real-world knowledge and skills. The assigned readings complement the video content, and you can engage in lively discussions with your classmates on your class discussion board.