Skip to main section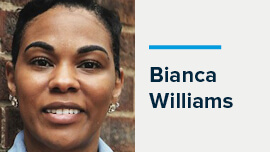 Many people know what it's like to try to find a job for themselves. But not many have as much experience with helping others as Bianca Stewart Williams (MBA 2016).
In addition to her role as an HR professional and recruiting consultant, Bianca is the board president of Dress for Success Central Virginia, a not-for-profit organization dedicated to offering resources, support and professional attire to women looking to kick-start their careers and find professional success.
Before she was a member of the board, she was a client of Dress for Success.
"I was displaced from a position in 2015. As I looked for resources to find employment, I learned about Dress for Success," Bianca says. "I used their career center to apply for jobs, and saw the volunteers in action, helping women with interview clothing, resumes and networking."
After benefitting from the organization's services, Bianca was inspired to join the Dress for Success volunteers. "I would set up consulting appointments and help women with their resume," she says. "Even though I was unemployed at the time, I was blessed. Some women were running from domestic violence. Some had been unemployed for a while and were trying to get back on their feet. Their stories really encouraged me."
At the same time, Bianca was also pursuing her degree at Strayer University. "Being a single mother at the time, I needed education that was flexible," she says. As a student, her professional and educational pursuits often overlapped – in fact, she would sometimes recommend Dress for Success to some of the women she met at Strayer.
Since earning her degree, Bianca has held several roles in talent acquisition and HR for various organizations, while also expanding her work with Dress for Success – all those roles have contributed to a wealth of knowledge on how to find a job.
Here are some tips from Bianca for landing a new position:
Set your goals, and set them reasonably. You are not going to be CEO next week, but you can set some attainable interim goals.
Find a mentor. If there is someone in the position you're trying to get to, pick their brain in an information interview. They don't mind.
Find an accountability partner. Ask a friend or family member to check in with you: "Hey, have you completed this certification, or did you apply to that job you mentioned?
When searching for open jobs, always look for keywords that match your skill sets, and then use them in your job applications. Recruiters use keywords to streamline their own processes.
Keep your resume concise and update it regularly. Never have anything more than 10 years back, that can make your resume feel outdated.
Include a cover letter with your application. Recruiters want to get to know you on a personal level.
Always follow up. Just send an email, along the lines of "Hello, thank you for the opportunity with the interview. I hope to hear from you in the future." Kindness goes a long way, and even though you might not have gotten the position, you might make a connection that leads to another one elsewhere.