Skip to main section
An unconventional journey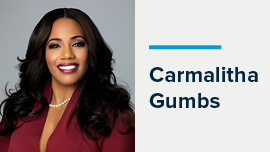 "I just knew I wanted to save the world," says Carmalitha Gumbs (MBA 2004, MHSA 2010). "I knew I wanted to impact lives. I was just trying to figure out how to do it and be happy."
The path to a fulfilling career is often a winding one, as Carmalitha discovered, and it's not easy. "I knew what I wanted to do, but once I became a single mother, I wasn't sure how I was going to make it happen. I delayed my master's degree for two years, but I knew education was an important part of my journey."
Carmalitha was dedicated to accomplishing her goals. She chose Strayer because it gave her the flexibility she needed to devote herself to education while still allowing her to manage her other responsibilities.
"Strayer made it possible for me to pursue an education and stop delaying. Some people get busy with life circumstances," Carmalitha explains. "They'll forget to go back and pursue their dreams. I didn't want that to happen to me."
With a background in social work and community engagement, and two master's degrees, Carmalitha was ready to take a career step that would fulfill her desire to serve others. In fact, she took several.
Today she's the head of community engagement and partnerships for Clover Health, a large healthcare provider in the Atlanta area. She is also an elected city councilwoman in South Fulton, Georgia, serving nearly 100,000 residents.
Throughout the COVID-19 pandemic, Carmalitha launched a wide range of wellness initiatives for Atlanta-area seniors, including pop-up dental clinics, salons, farmers markets and other initiatives. She made sure seniors had access to food and other supplies while staying at home – critical work that earned her recognition from State Rep. Sharon Beasley-Teague for outstanding public service.
"What I tell people all the time is that their life experiences will help them get to where they're supposed to be, and it's all part of the process," Carmalitha says. "I even tell my daughter that now. You won't always get what you want, but you might find another possibility. Just be willing to think outside of the box."