Skip to main section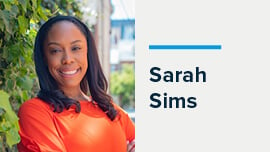 Sarah Sims (BBA 2012) has grown her career – and helped others grow theirs – at the globally respected Aspen Institute for 14 years. Here, she discusses her own career trajectory and her guidance for building a meaningful professional journey.
Q: What stands out to you about your own career path, and how did your education play a role in it?
Sarah Sims: I started my career learning basic secretarial skills at a small business school, and that led to an administrative role at a nonprofit. In 2007, I was hired to run the headquarters of the Aspen Institute, which proved to be an important opportunity for me.
There was a key moment for me early on when I saw an influx of programming and events, such as the renowned Aspen Ideas Festival. I knew that the Institute was growing significantly, and I needed to grow with it. And that's when I went to Strayer. I worked full-time, took classes online at night and raised two children. A lot of my career opportunities are due to having the foresight and the discernment to say, "Okay, there's some great shifts happening here in this organization. I want to be prepared for it."
Q: What is a project you are proud to have worked on?
Over the course of 14 years, I led over a dozen capital improvement projects to expand the D.C. office, which ultimately led to my top project with the Aspen Institute: opening the flagship headquarters in DC: 91,000 square feet hosting 450 employees and state-of-the-art conference rooms.
Q: You've certainly met a lot of people in your work and hired professionals for a rapidly growing organization. What do you look for in a potential employee?
I'm looking for someone with an open mind who's really prepared for development. You have to be willing to learn and grow. It is important to be agile and understanding.
I also look for someone who is willing to contribute and challenge the status quo in a professional way. I have hired you because you possess something I don't have. So, I need you to bring that to the table, because that's what makes us a strong team. Come with that courage to really show up in meetings. And don't just challenge, but problem-solve. I like to hear things like, "Here's an idea that I have or a different twist to what we could be doing."
Q: What have you learned along the way in terms of your own career development?
Open-mindedness and agility are an important foundation. When you don't always get your way, it doesn't break who you are. Have the courage to be yourself. Authenticity is critical, but I know that as a woman of color, that is not always easy. It wasn't always easy for me. I always wanted to adapt to the room and the situation that I was in. However, eventually I found that if I was invited in and given a seat at the table, it's mine. It has my name on it. They really want to hear what I have to say.
Q: What guidance do you have for others managing a career, education and family?
Focus on mastering a few things, including time management. That's crucial when you are adding responsibility to your life. Because when you've added something, it doesn't mean the other things goes away. It means you have to re-adjust, pivot and contribute more time to the things that are important to you.
For me, structure was important – and Strayer provided that for me. Expectations were clear and the online experience was organized, and I learned so much from the instructors. But the structure was so valuable, especially because so much of my schedule was determined by others. My children and my company often required me to change direction or schedules quickly, but Strayer was consistent. The administrators and the professors were supportive, and I would advise every student to take advantage of the Strayer community.