Skip to main section
Join an online career community to tap into knowledge from fellow Strayer students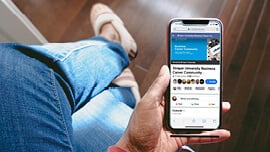 An important part of the student experience at Strayer University is connecting with others in similar fields and careers. Career Communities, hosted in Strayer's Facebook groups, offer students a space to connect with alumni, faculty, career coaches and peers to learn about potential careers, find jobs and ask questions.
Three communities – in business, criminal justice, and information technology – collectively host more than 15,000 students. In the groups, students can get practical, actionable guidance on interviewing and any additional certifications, knowledge or experience that can help them gain an edge in their job search.
"I am thankful to the IT group for its insight on what to expect, how to go about getting a job and what to look forward to while working in the field," says Jenkins, a BSIT student. Janice, a BBA student, adds, "The Strayer community is an awesome place to learn about new jobs, link up with other students and professors and improve your job search and resume skills."
"With preparation, networking, and practice comes the confidence to succeed, and we're thrilled that students are joining and building these communities where talent and skills are shared and valued," says Dr. Christy Heid, director, Office of Employability. "We hope they gain a good sense of what is required to succeed in their fields so they can achieve their goals."
Join Strayer's Career Communities on Facebook.