Skip to main section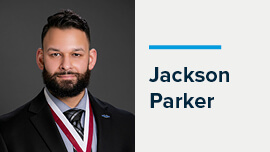 For Strayer alumnus Jackson Parker (BSCJ 2013), public service is a way of life. His parents left Afghanistan during the Soviet occupation and built a new life in the U.S. Their experience made a big impact on him. "My parents fleeing a war-torn country motivated me to be the best person I can be," Parker says. "I've always been interested in public service."
After high school, he enlisted in the Army. When he returned from his second deployment in Iraq, Jackson considered his future. "I was at the crossroads between continuing my military service and trying something else," he says.
His desire to serve led him toward law enforcement, and he began a criminal justice program at Strayer while still on active duty. "After my first semester, I decided this was for me," he says.
One week after graduating, Jackson joined a police force in northern Virginia, where he excelled as a field training officer, crisis intervention officer and police negotiator.
He has since taken his career to the next level. Today Jackson is a special agent in Washington, D.C., working at the highest levels of government to investigate domestic threats and counterintelligence issues. "Every case that lands on my desk impacts national security," he says.
Jackson credits his Strayer education with helping him get where he is today. "Without going to Strayer, I would never have been the police officer that I was. I doubt I would have gotten my current job either."
Because of that experience, he wants to help others succeed. Jackson is a volunteer ambassador for Strayer's criminal justice program, and he has helped hundreds of students to advance their studies. "The circle always comes back in full," he says.