Skip to main section
Student-to-student mentoring provides a rich source of motivation, knowledge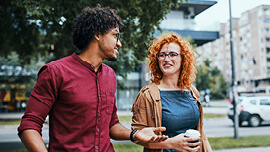 Earning a degree requires a long-term commitment of time and motivation. For students just starting out, the length of time and number of classes may feel overwhelming, which is why tapping into sources of support can provide the inspiration to keep going. In addition to support offered by staff and faculty, a particularly important relationship exists among peers, who often have the best insight on how to achieve certain goals.
Strayer's peer mentoring program helps students in a variety of situations, whether they are new to school, have been out of school for some time or working to balance multiple commitments and priorities. By connecting these students with others who have been in similar situations and succeeded, the mentoring program highlights the positive outcomes of working through challenges.
"Knowing that someone else has walked a similar path and learning from their experience can be really powerful," says Sarah Perrotta, director, Student Relations. "The peer-to-peer relationship can help students build confidence and gather practical guidance on critical elements of the nontraditional student experience."
"We are thoughtful about matching peers who have similar experiences and interests to create a relevant mentor relationship," says Perrotta. "We begin with a matching survey for mentees and mentors. The mentees are typically newer students, while the mentors are more experienced and qualified to provide that level of support and guidance.
The peer mentoring program is currently offered for one quarter, but students are welcome to continue developing their relationship.
"Students are constantly navigating work, school and life, and we want to support them in that. Mentors are so well positioned to do this because they've done it themselves," says Perrotta. "We also provide resources from the university to make sure it's a really valuable experience for mentees. Our mentors volunteer to do this because they genuinely want to help their classmates."
To learn more about the peer mentoring program, email [email protected].